Israel out in front while Denmark joins IJF honours list for the first time
The Tashkent Grand Prix 2017 provided a home gold medal on Saturday as the hosts' leading female judoka Gulnoza MATNIYAZOVA was the hero on day two at the Tashkent Sports Arena.
The men's -73kg and -81kg categories were decided along with the women's -63kg and -70kg on Saturday on the second day as Austria, Israel, Uzbekistan and Kazakhstan took gold.
Uzbek Olympian Ramziddin SAYIDOV completes transition to referee
Former -100kg judoka Ramziddin SAYIDOV, 35, finished fifth at the London 2012 Olympics and won Grand Prix, Grand Slam and Asian Championships gold during his 12-year run at the international level.
The Uzbek was a competitor at the Tashkent Grand Prix in 2013, 2014 and 2015. This year SAYIDOV is refereeing at an IJF World Judo Tour event for the first time.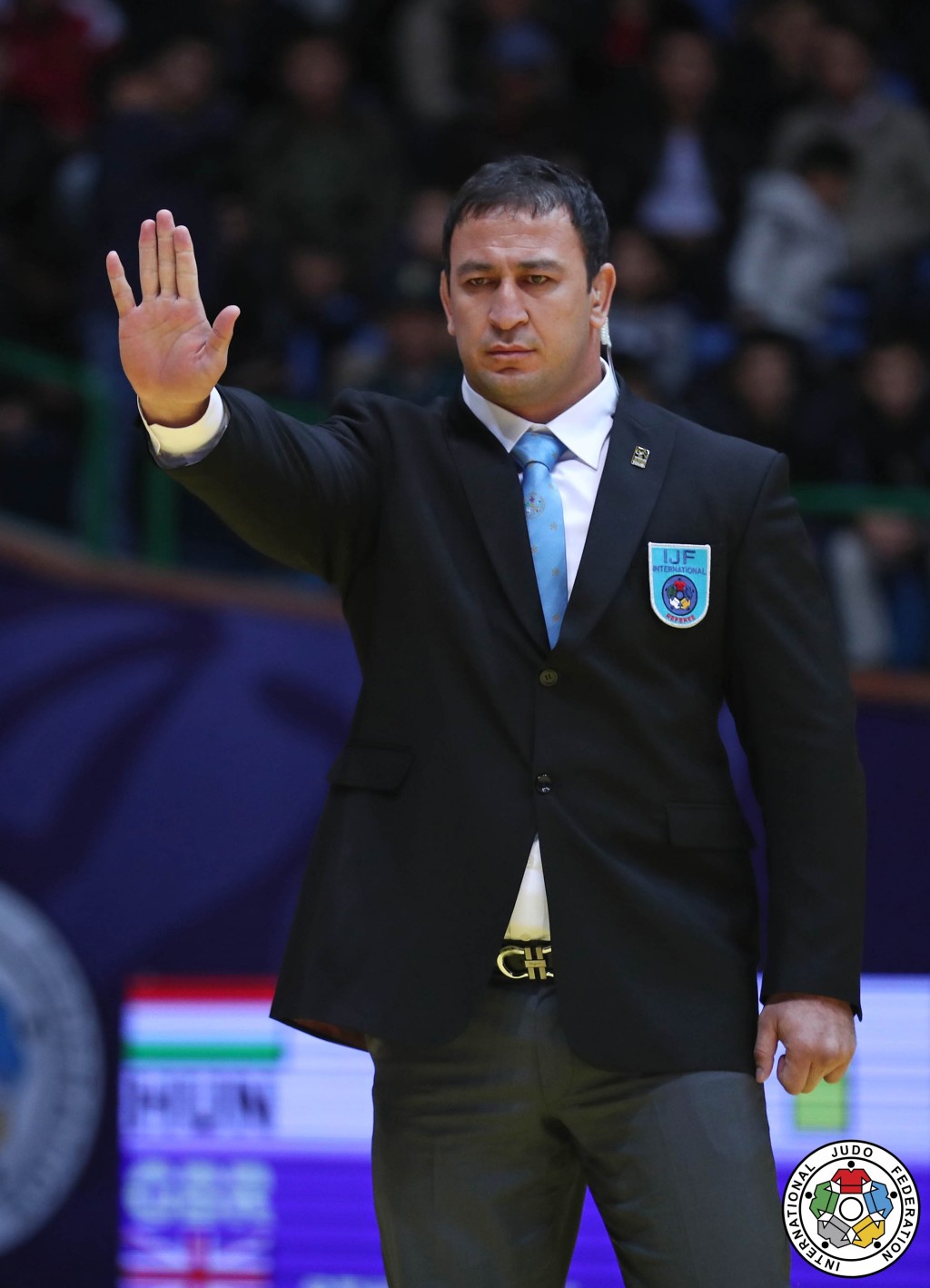 SAYIDOV calls a halt to the action
"This is a wonderful experience for me to return to the mat as a referee," he said.
"I really enjoy being out there, experiencing the same atmosphere and still being involved at the elite level. My aim is to referee at the World Championships, Olympics Games and as many events as I can."
SAYIDOV is one of a host of former top-level judoka who have been fast-tracked by the IJF into the refereeing fold.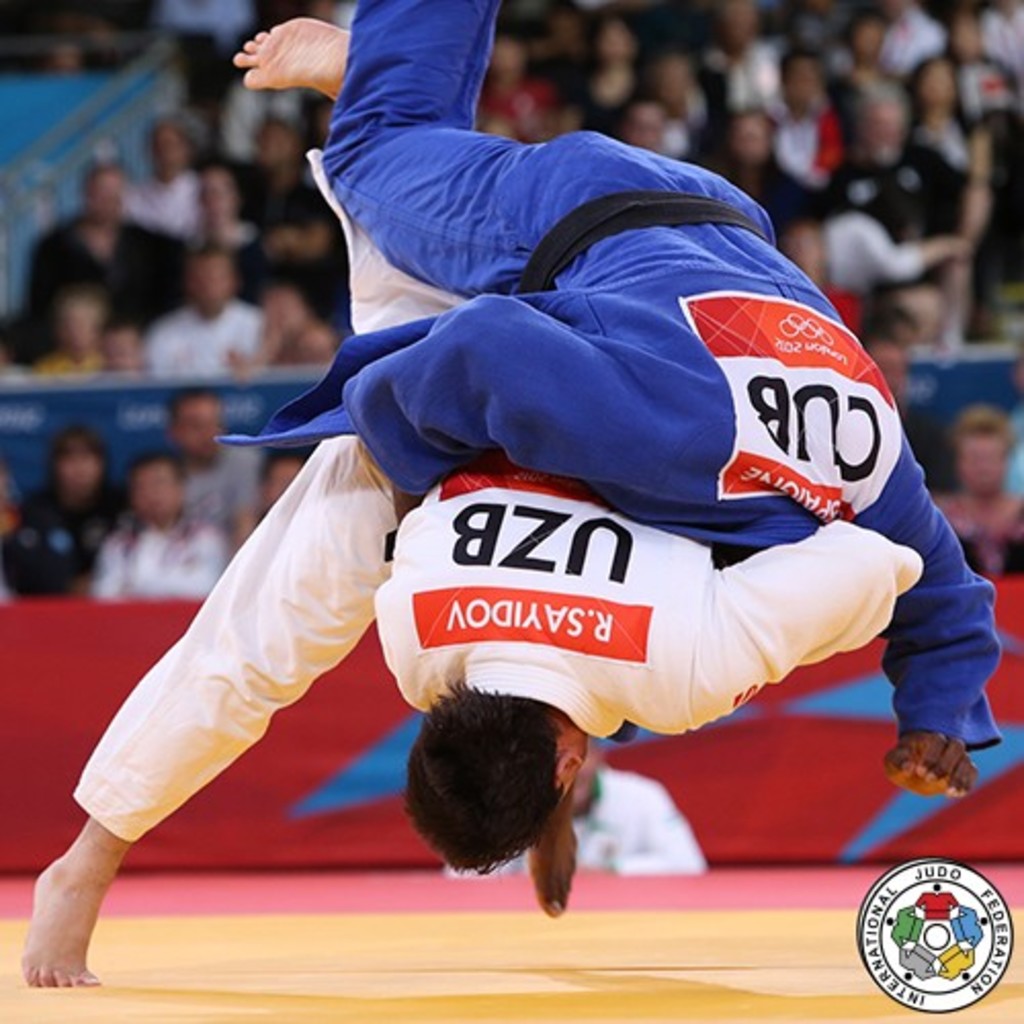 SAYIDOV (white) in action at the London 2012 Olympic Games
"I think it's a very good initiative by the IJF and I am happy to be part of it. I thank the IJF for all the opportunities I have received and every time I come to referee I will do my very best for our sport.
"At first I felt nerves and was hesitant but now already I feel comfortable and able to do what is required of me.
"I went to the Olympics as a judoka but I was never able to win a medal. I hope to go back to an Olympic Games and show the best of myself this time around as a referee."
SAYIDOV has been selected to officiate medal contests on Friday and Saturday in Tashkent
Day three will feature the heavyweights including Rio 2016 Olympic bronze medallist Or SASSON (ISR) at +100kg and at +78kg Anamari VELENSEK (SLO) who also finished third at the last Olympic Games.
WOMEN
-63kg: Austria's UNTERWURZACHER bounces back after Worlds blip
European Championships bronze medallist Kathrin UNTERWURZACHER (AUT) returned to form in Tashkent with a sixth Grand Prix gold medal to to go some way to making amends for her early exit at August's World Championships. The world number three won all three of her contests on Saturday without giving away a single score to register her country's first medal in the competition. Germany-based Hannah MARTIN (USA) took her second silver medal in Tashkent after being held down in a mune-gatame pin for 20 seconds.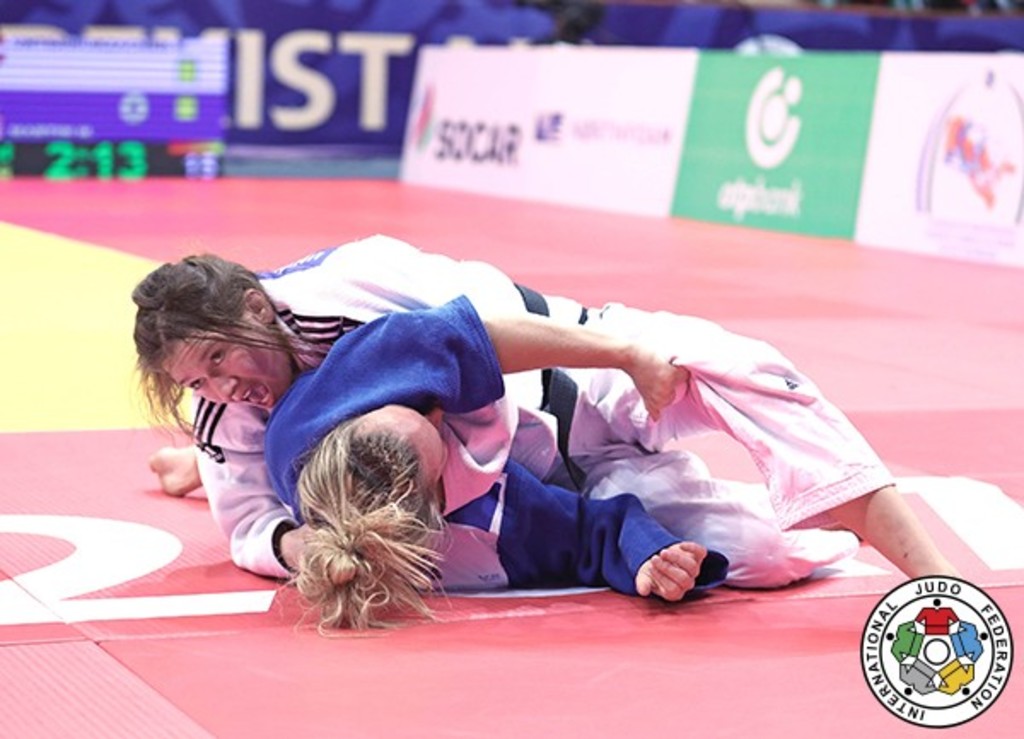 In the first semi-final UNTERWURZACHER bested Ekaterinburg Grand Slam silver medallist Ekaterina VALKOVA (RUS) in added time. It was honours even after four minutes with no scores registered but the Austrian needed only 12 seconds to throw with a ko-soto-gake for ippon in golden score. In the second semi-final MARTIN held down Baku Grand Slam bronze medallist Busra KATIPOGLU (TUR) with a powerful kesa-gatame. MARTIN had specialised in ne-waza in the first session and, with a determination to develop all areas of her skillset, looked energised and highly-motivated.
The first bronze medal contest was won by former Tyumen Grand Slam winner Catherine BEAUCHEMIN-PINARD (CAN) who held down KATIPOGLU with a sankaku-gatame for ippon. The last IJF medal for BEAUCHEMIN-PINARD was in 2015 at the Tyumen Grand Slam when she took bronze but it's only taken the Canadian two weeks into her new category to medal on the IJF World Judo Tour. BEAUCHEMIN-PINARD moved up a week ago in Zagreb maybe in anticipation of the incoming former Japan international Christa DEGUCHI - who will debut for Canada at the Abu Dhabi Grand Slam in three weeks -- not to mention world number seven Jessica KLIMKAIT (CAN) also being in the -57kg category.
The second bronze medal was won by VALKOVA who defeated three-time Grand Prix bronze medallist Andreja LESKI (SLO) in golden score. VALKOVA took the lead with a waza-ari from a sumi-gaeshi after 20 seconds and looked to wrap up the victory on the ground in osaekomi but crucially lost her position and was turned into a holddown by LESKI. The Russian escaped after 17 seconds which was enough for a waza-ari for LESKI and parity on the scoreboard remained to force golden score. VALKOVA tried several more sacrifice throws but failed to score until the two minute mark when she threw with a yoko-tomoe-nage for a medal-winning waza-ari score.
Final
UNTERWURZACHER, Kathrin (AUT) vs MARTIN, Hannah (USA)
Bronze Medal Fights
BEAUCHEMIN-PINARD, Catherine (CAN) vs KATIPOGLU, Busra (TUR)
VALKOVA, Ekaterina (RUS) vs LESKI, Andreja (SLO)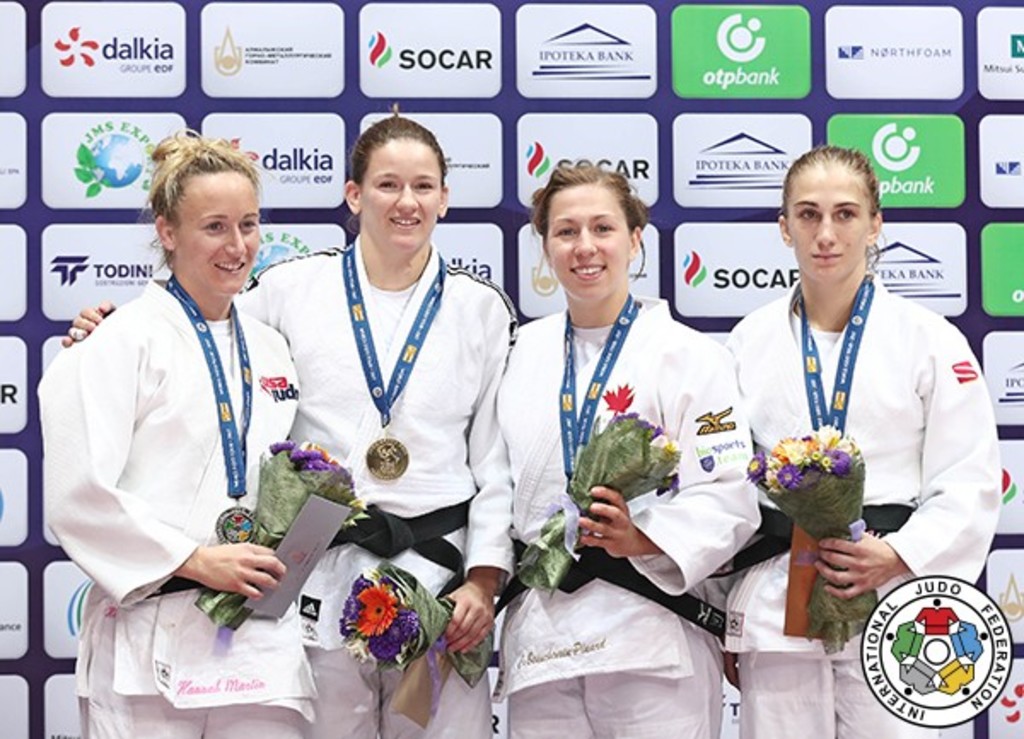 Final Results
1. UNTERWURZACHER, Kathrin (AUT)
2. MARTIN, Hannah (USA)
3. BEAUCHEMIN-PINARD, Catherine (CAN)
3. VALKOVA, Ekaterina (RUS)
5. KATIPOGLU, Busra (TUR)
5. LESKI, Andreja (SLO)
7. URDABAYEVA, Marian (KAZ)
7. DAVYDOVA, Daria (RUS)
-70kg: MATNIYAZOVA retains Tashkent title as Uzbekistan seizes first home gold
Gulnoza MATNIYAZOVA (UZB) successfully retained the Tashkent Grand Prix title to win Uzbekistan's first gold medal in this year's edition while runner-up Emilie SOOK (DEN) took her country's very first medal on the IJF World Judo Tour. SOOK, 21, who finished fifth at the Zagreb Grand Prix a week ago, entered new territory today with a first final and that was the same for her country who will now always remember the name in annals of Danish Judo. MATNIYAZOVA had seen her male counterparts miss out on top spot on day one and two and saw the opportunity to not only fly the flag for Uzbekistan but also to show the progress of their women's team. The local judoka tapped out SOOK with a sharp piece of shime-waza which was lapped up with glee by the home crowd.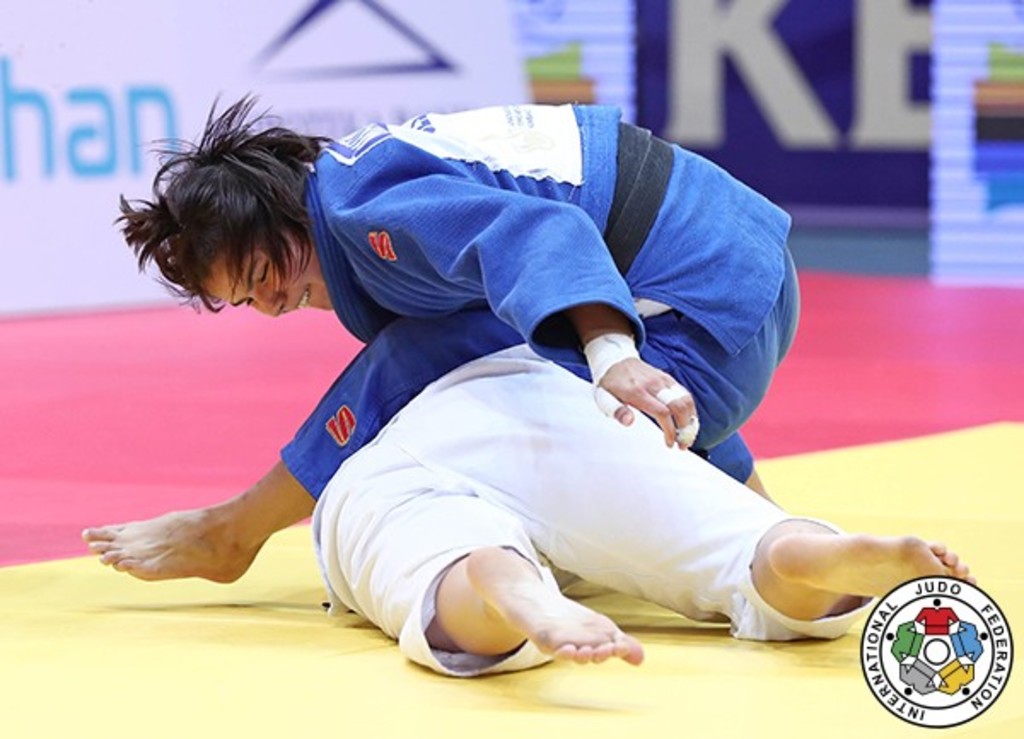 In the first semi-final SOOK defeated Antalya Grand Prix winner Anka POGACNIK (SLO) by a waza-ari from a tomoe-nage to guarantee a first Grand Prix medal of her young career. In the second semi-final MATNIYAZOVA defeated u23 European Championships winner GERCSAK Szabina (HUN) with an ouchi-gari after 37 seconds of golden score.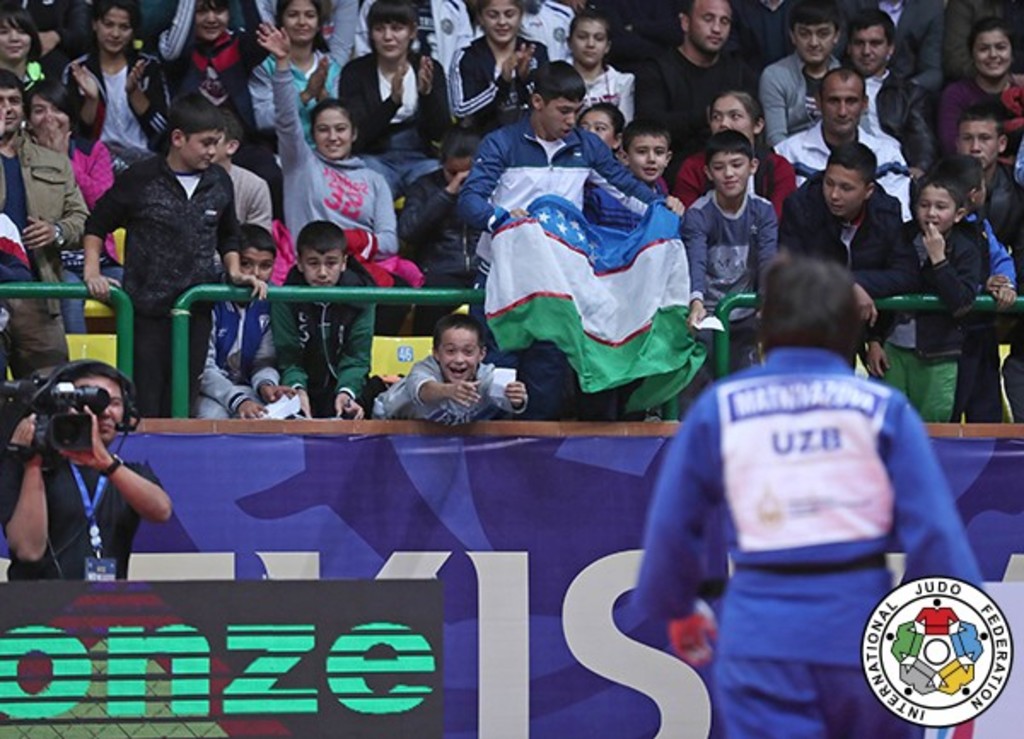 Children celebrate home win for MATNIYAZOVA
The first bronze medal was awarded to GERCSAK who defeated world number 28 Roxane TAEYMANS (BEL). A waza-ari for the 21-year-old Hungarian was the difference after four minutes of action as the wait goes on for Belgian TAEYMANS who is still in search of a first Grand Prix medal.
The second bronze medal was won by POGACNIK against 26-year-old Grand Prix debutant Taisia KIREEVA (RUS). Slovenia's POGACNIK drove her opponent over with a seoi-nage for a waza-ari score after two and a half minutes of golden score to take home her fourth Grand Prix medal.
Final
SOOK, Emilie (DEN) vs MATNIYAZOVA, Gulnoza (UZB)
Bronze Medal Fights
TAEYMANS, Roxane (BEL) vs GERCSAK, Szabina (HUN)
POGACNIK, Anka (SLO) vs KIREEVA, Taisia (RUS)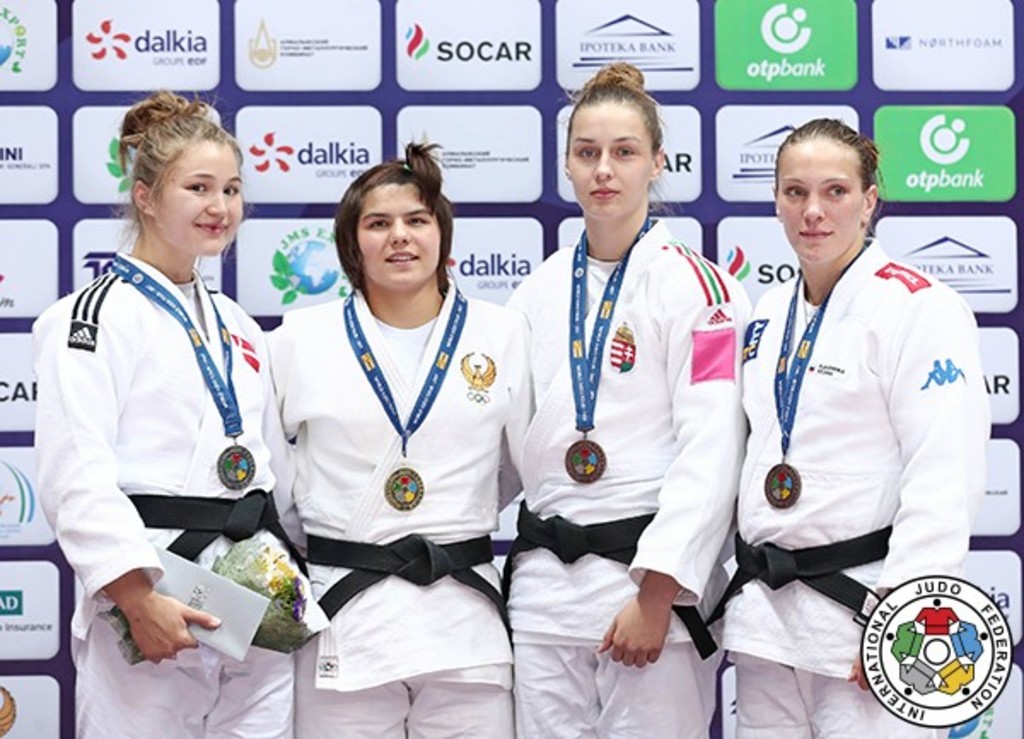 Final Results
1. MATNIYAZOVA, Gulnoza (UZB)
2. SOOK, Emilie (DEN)
3. GERCSAK, Szabina (HUN)
3. POGACNIK, Anka (SLO)
5. TAEYMANS, Roxane (BEL)
5. KIREEVA, Taisia (RUS)
7. DIBRINA, Iana (RUS)
7. CHSHERBAKOVA, Aelita (KAZ)
MEN
-73kg: Smiles for SMAGULOV as the Kazakh has the beating of Uzbek rivals
Asian Championships bronze medallist Zhansay SMAGULOV (KAZ) ruled the -73kg category for Uzbekistan's neighbours with a workman like performance. The 25-year-old Kazakh picked up his second Grand Prix gold medal and first since 2015 by defeating world number 11 Giyosjon BOBOEV (UZB) in the final. SMAGULOV started slowly but opened up in the final minute and threw BOBOEV with a seoi-otoshi for ippon with 22 seconds left on the clock.
In the first semi-final BOBOEV beat teenage judoka Martin HOJAK (SLO) in an incredible contest. Both judoka launched attacks from the opening exchange which set the tone a frenetic contest which teased, tormented and tantalised the Uzbek supporters. BOBOEV and HOJAK committed to throw after throw, all narrowly avoided giving away a score and so golden score was required. With everything in the balance, the golden score period was all-out action and not only were the spectators deeply invested and thoroughly enjoying the semi-final, finalist SMAGULOV, who was awaiting the winner in the final, would have been savouring the lengthy period of golden score. HOJAK was penalised with a shido for a leg grab after five minutes and 27 seconds of golden score to send BOBOEV into the final.
In the second semi-final SMAGULOV threw 2016 Tashkent Grand Prix winner Mirzokhid FARMONOV (UZB) with a tai-otoshi for a waza-ari score which was the only score of the four minute contest.
The first bronze medal was won by Azeri youngster Telman VALIYEV (AZE) in a fantastic contest against FARMONOV which produced four scores. VALIYEV, 22, was unfazed by the atmosphere as he fought for his first Grand Prix medal and against one of Uzbekistan's biggest medal hopes. The Azeri built up an unassailable lead to the shock of FARMONOV and the crowd with three waza-ari scores without reply. A sumi-gaeshi, an osoto-gari and then a te-waza movement each yielded scores before FARMONOV pulled one back in the closing seconds but it was too little too late.
The second bronze medal was won by world number 94 and former Junior Asian Cup winner Khikmatillokh TURAEV (UZB) who beat HOJAK. TURAEV, 22, clinched his first IJF honours in a dream scenario as he graced the podium in his homeland on the occasion of the Central Asia's leg of the IJF World Judo Tour. A sode-tsurikomi-goshi waza-ari gave TURAEV the lead and he added another before the end to secure bronze. HOJAK, 19, who was involved in some of the best contests of the day, will be one of the favourites in his next competition as the teenager will travel to Croatia later this month for the Junior World Championships in Zagreb.
Final
BOBOEV, Giyosjon (UZB) vs SMAGULOV, Zhansay (KAZ)
Bronze Medal Fights
VALIYEV, Telman (AZE) vs FARMONOV, Mirzokhid (UZB)
HOJAK, Martin, (SLO) vs TURAEV, Khikmatillokh (UZB)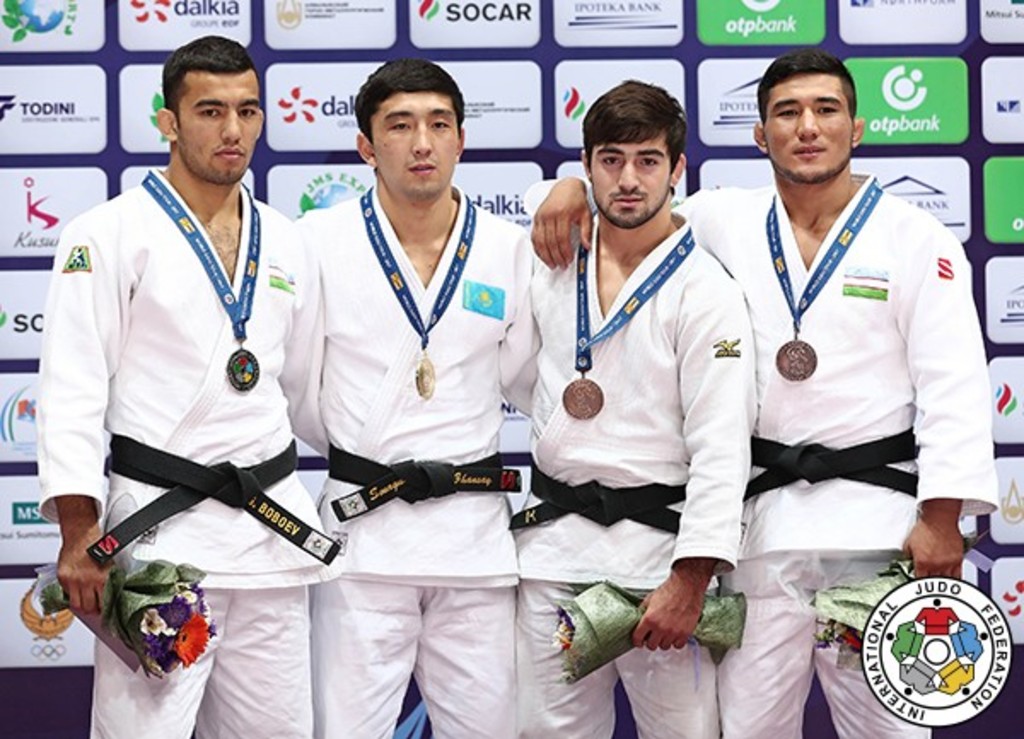 Final Results
1. SMAGULOV, Zhansay (KAZ)
2. BOBOEV, Giyosjon (UZB)
3. VALIYEV, Telman (AZE)
3. TURAEV, Khikmatillokh (UZB)
5. FARMONOV, Mirzokhid (UZB)
5. HOJAK, Martin, (SLO)
7. ALIMARDONOV, Jakhongir (UZB)
7. ARYAN, Mod Reshad (AFG)
-81kg: MUKI makes mark in new category to send Israel top of the table
Former European champion Sagi MUKI (ISR) won gold for the first time in his new weight category with a competent display in the -81kg category despite not reaching his usual levels of spectacular ippon judo. MUKI, who was fifth at the Rio 2016 Olympics in the -73kg category, faced former Asian Championships winner NYAMSUREN Dagvasuren (MGL) in the final in a first meeting between the pair. The Israeli was one of the most explosive judoka at the lower weight but looked more cautious and far less inventive but still offered a sturdy defence. In his fourth event up at -81kg, MUKI threw NYAMSUREN with a utsuri-goshi for a waza-ari after two and half minutes of golden score.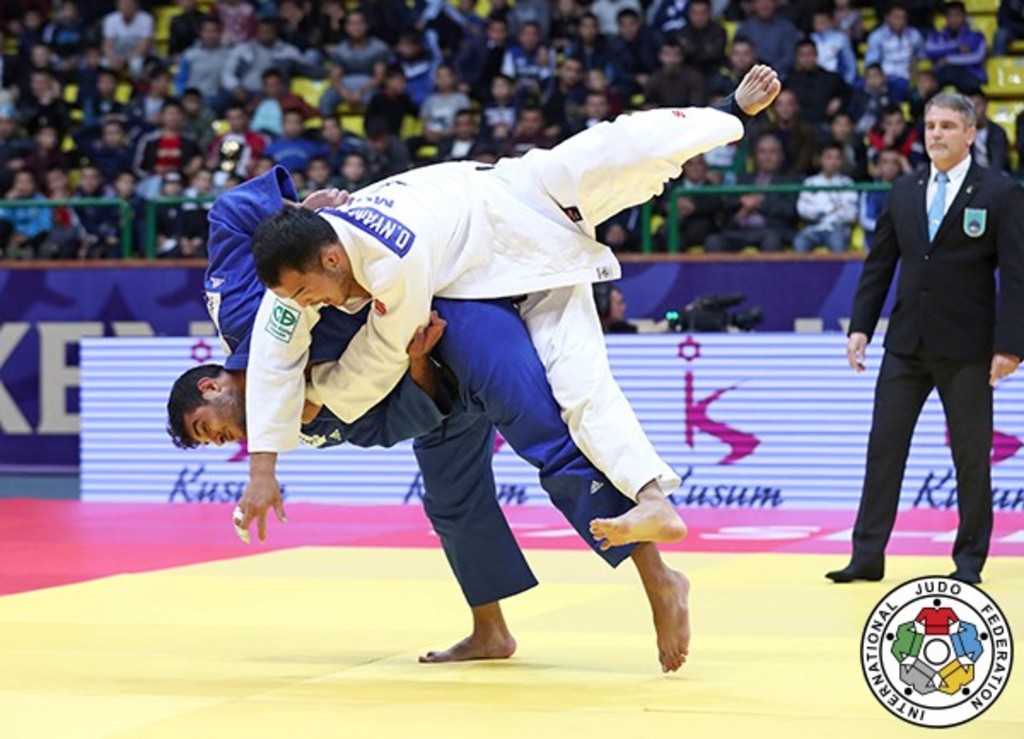 In the first semi-final NYAMSUREN forced Kamoliddin RASULOV (UZB) to submit to book a place in the final. After 69 seconds of golden score the Mongolian trapped RASULOV on the ground and the hold was so tight that the exhausted home judoka elected to submit. In the second semi-final MUKI left it late to impose himself against Ulaanbaatar Grand Prix bronze medallist Fagan GULUZADA (AZE). MUKI had to deal with an attacking onslaught from GULUZADA and absorbed everything the Azeri had to offer, albeit with a few scares, and showed his super conditioning in the final minute to score a waza-ari from an osoto-gari with 14 seconds left on the clock.
The first bronze medal was won by GULUZADA over world number 126 Bekzhan ABDUALIYEV (KAZ). Azeri GULUZADA offered little in regulation time with the Kazakh doing the bulk of the work. In golden score GULUZADA was still in contention and countered ABDUALIYEV with ashi-waza for bronze and high fived a group of young fans in the front row after the leaving the tatami.
The second bronze medal remained in Tashkent as an all-Uzbekistan clash had the crowd out of their seats throughout the contest. Former Asian Championships silver medallist Sharofiddin BOLTABOEV (UZB) was the only judoka to dent the scoreboard as he scored a waza-ari with a seoi-nage as RASULOV finished fifth.
Final
NYAMSUREN, Dagvasuren (MGL) vs MUKI, Sagi (ISR)
Bronze Medal Fights
ABDUALIYEV, Bekzhan (KAZ) vs GULUZADA, Fagan (AZE)
RASULOV, Kamoliddin (UZB) vs BOLTABOEV, Sharofiddin (UZB)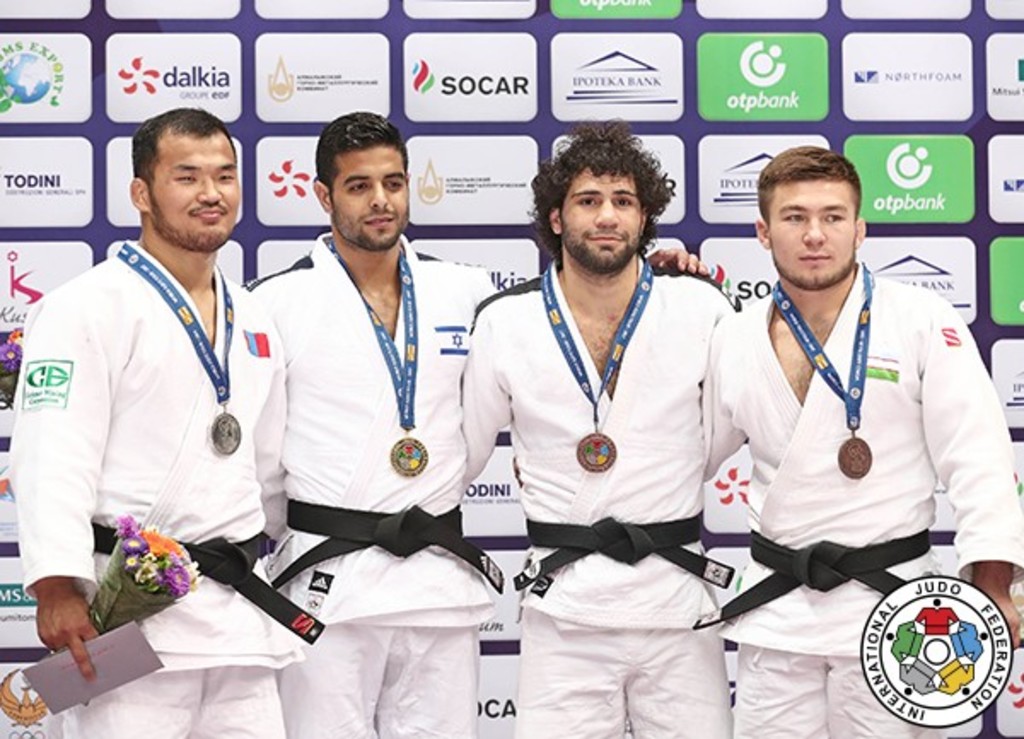 Final Results
1. MUKI, Sagi (ISR)
2. NYAMSUREN, Dagvasuren (MGL)
3. GULUZADA, Fagan (AZE)
3. BOLTABOEV, Sharofiddin (UZB)
5. ABDUALIYEV, Bekzhan (KAZ)
5. RASULOV, Kamoliddin (UZB)
7. TURSUNOV, Sukhrob (UZB)
7. KUBIENIEC, Jakub (POL)
COMPETITION PROGRAMME
Sunday
12:00 Preliminaries on two mats
17:00 Final block on one mat
Women: -78kg, +78kg
Men: -90kg, -100kg, +100kg
Location: Tashkent Sports Arena